The NFC Beast is in prime time baby!!! I personally can't wait to watch this slop fest unfold in front of the nations eyes. Carson could throw a pass to me tonight and I would not be surprised. I can't believe that at 1-4-1 we're looking at a MUST win for the Birds. Tonight is the start of a turnaround that will lead to a NFC East Title at 6-9-1. Let's take a look into the keys to the game.
THE BLACK UNIFORMS
I don't normally think too far into things like this, BUT I totally buy into the fact that the Giants shit themselves every time the Birds break out these uniforms. I literally don't think twice about picking them to beat the Giants whenever they put these uniforms on. I for one can't wait to see how slimming the all black is for Nate Herbig.
Boston Scott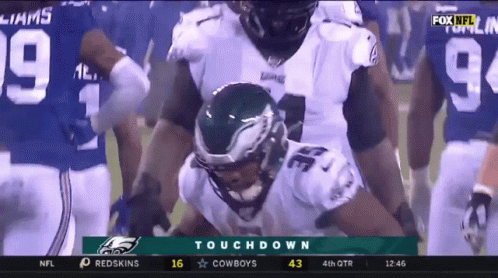 The offense needs Boston Scott to perform tonight. He has done it before against the Giants, but tonight he needs to be able to be dependable to keep the defense from going on a total assault of Carson. The Giants defense is not a pushover so they will need his best effort tonight. If we get another version of that dance, we're in good shape.
Injury Bug Staying Away
That is either Chris Farley in Tommy Boy or another Eagles offensive lineman going down with an injury (looking at you Driscoll). Can we get through a game without Lane Johnson going off with the same ankle injury? I sure hope so or else we have to watch that Toth guy play football again. Carson trusted Toth as much as I trust farts after eating from a South Philly Bodega. If this line can stay healthy tonight, it should give Carson the time he needs to find future Hall of Famer, Travis Fulgham.
Eagles D-Line
The Giants have underrated weapons on their offense. You don't want to let Daniel Jones get comfortable in the pocket to let Slayton/Engram make some plays in the secondary. This is where the defensive line will need to step in. Fletcher Cox is due to take over a game and I truly believe tonight will be it. The Giants running game is not strong and should be easy to stop tonight just with the usage of our front four. I'd love to see these pass rushers keep grinding to let the secondary make some plays back there. BOLD PREDICTION: Josh Sweat 2 sack game.
Evan Engram
This is the playmaker that scares me the most tonight. The Eagles have been TERRIBLE against Tight Ends this year. Maybe it's our lack of reliable personnel or just plain old bad play calling, but either way it has not been good. They need to find a way to key in on Evan Engram tonight. Don't let the obvious threat be the o7ne that beats you. Present a good defensive gameplan for once please.
All in all, the Eagles just need to come out and play a complete game. Even with a shell of a roster, they are still the better team. Let's not play like a bunch of boobs and get a much needed win for this team and city.
PREDICTION: EAGLES 27 – GIANTS 21
Get ready for the game with these great moments.