The Birds take on the Rams at the Linc tomorrow in what could be considered a must-win game for the Eagles. The Eagles will be looking to rebound from a devastating loss to the Football Team. The Eagles allowing 27 unanswered points after being up 17-0 is the kind of nightmare fuel that had Eagles fans a tossin' and turnin' all night this week.
Meanwhile, the Rams are coming off a big win against Dallas. The Rams look like they have returned to the formula that made them so successful in 2017 & 2018; go at defenses with a well designed and balanced offensive attack and contain their opponent's biggest weapons on defense. The Birds will have their work cut out for them. I'll be looking to watch the following storylines in this game:
1.) Nate Herbig vs Aaron Donald– Doug Pederson announced Nate Herbig will make his second consecutive start this week against LA. The bad news for Herbig is he has to face two-time NFL Defensive Player of the Year and six-time Pro Bowl defensive tackle Aaron Donald. Donald takes people's lunch money every week, and tosses grown ass men around like they're stuffed animals. While I firmly believe most of the Eagles sack problems last week could be attributed more to scheme issues and Carson Wentz holding onto the ball too long, this matchup scares me. Nasty Nate won't sleep a wink tonight.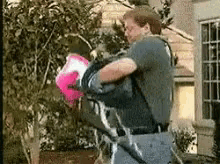 2.) Can Carson Wentz Protect the Football?- Carson Wentz was awful against Washington. It was the worst performance of his career IMO. The fumbles and interceptions are frustrating, but taking 8 sacks is inexcusable. Wentz is beyond talented, but he has to learn how to get rid of the ball. I hope Dougie P will try to roll him out more on Sunday, and have him make some throws outside of the pocket. Otherwise, I think things get ugly with this team quickly. 
3.) Pederson vs. McVay 3: Dougie P has owned McVay in their first two meetings as head coaches. McVay is a brillant football mind, even if he may be a smidge overrated as a coach. He'll certainly give the Birds defense some fits. I like Pederson to have his guys ready to play tomorrow.
Prediction: Eagles 24-20
I think the Eagles come out of the blocks slow this week, but ultimately get a desparetly needed win against a good Rams team. The offensive line will need to hold up for the Birds, and if they do I think they win.
Go Birds.