I remember being excited when this cover came out. Years of misery and trash had been undone with a few trades and signings. We were going to dominate the Eastern Conference for the next several years. One short year later, we are dependent upon the corpse of Al Horford and Tobias Harris to carry us over the mighty New York Knicks tonight. Where did it go wrong? How do we fix it? Let's take a look at some moves that could right the ship.
Make Chonk King Eric Snow the coach: Has anyone paid attention to what our boy is looking like these days? A KING. I've got no clue how he is with X's and O's, but I know that he would immediately garnish more respect than Brett Brown does. Look at that power stance. Perfect parade rest. Perfect dunlap (belly dun lapped over his pants). A perfect representative for the organization. Plus think of the players he can bring in for inspirational speeches: AI, Mutombo, and Theo Ratliff. Pay the man Sixers.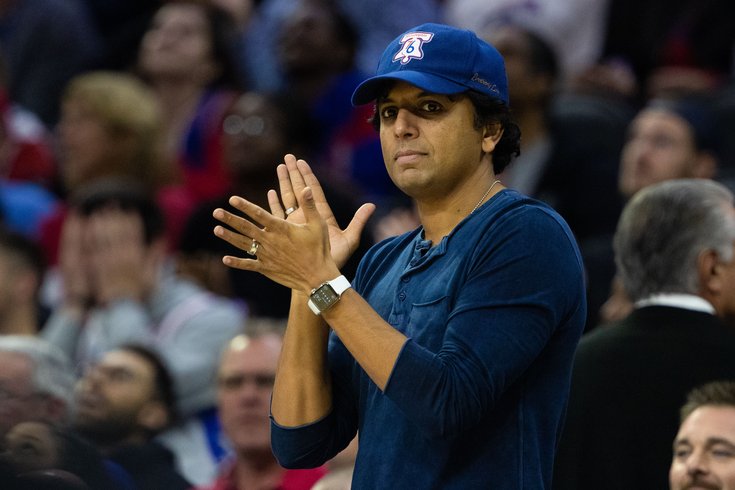 2. Sell the team to M. Night Shyamalan: "I see dead people." No Hailey Joel Osment that's just Raul Neto playing basketball. Who better to put the ultimate plot twist of turning a team around than Shyamalan. Nobody can slap the NBA with more jaw-dropping moments than M. Plus, I think we'd see a dramatic increase in 76ers players in movies. Take that Space Jam 2. Feel like this move would also increase celebrity appearances at the game by at least 20%. Maybe get Bruce Willis or Samuel L out there for a game. I'm all for getting the dweebs who run the team out of office.
3. Bring back Hip Hop: Franklin the Dog is a nice pooch. He doesn't come close to having the crowd erupt like our boy Hip Hop did. The great thing about Hip Hop is he can either be the mascot of Easter or he can be driving a 2006 Chrysler 300 at a high rate of speed up 95. He's versatile. The stadium needs hope when we arrive. We have none right now. Bring back our knight in shining armor. Save the team.